To be perfectly honest, I hadn't heard of traditional Scottish Tablet before I came to Scotland, but I'm really glad I've heard of it now!
When I first moved here, I heard rumours of this delicious traditional sweet treat that everyone seemed to love. It was called "Tablet", which explained absolutely nothing about what it is, so I didn't exactly rush out and try to find some.
My first Christmas, someone finally bought me some, and I realised I had been missing out big time!
Tablet is a wonderfully tasty, sugary, sweet (or candy) with a slightly grainy texture that melts in your mouth.
When I try and explain it to people who've never heard of it or tasted it, I usually compare it to fudge, and I have heard it called Scottish fudge before, although it has a medium-hard texture rather than soft as a fudge usually does.
After numerous people had told me that I just had to try it, when I finally did, I wasn't disappointed. Instead, I wondered what took me so long!
It's delicious sugary goodness, and seriously addictive. Not so good for the waistline, but definitely the perfect treat when you want something sweet!
Alongside other Scottish classics like Cranachan, Stovies, Scottish Macaroons, and Clootie Dumpling, Tablet is one of the Scottish dishes you just have to try.
However, it's also really fun to make your own Scottish Tablet. It can be temperamental (we'll get to that with all our tips below!), but it's worth giving it a go. Especially if you don't have access to Tablet where you live.
Why not try your hand at making your own with the Scottish tablet recipe below? See our top tips to make sure things don't go wrong!
Below you'll find the step-by-step recipe method with photos to help you achieve the perfect Scottish Tablet, or scroll straight to the bottom of this post for the printable recipe card!
Where does Tablet come from?
You'll often hear it referred to as "Scottish Tablet", but actually, lots of sweets similar to Tablet can be found around the world. They sometimes tend to be a bit on the softer side than the traditional Tablet found in Scotland, but some are awfully close in texture as well.
In Latin America, there's Dulce de Leche en Tabla, then Borstplaat in the Netherlands, and Sucre a la creme in Quebec, Canada. Sometimes you'll hear it called Swiss Milk Tablet, but that refers to the type of condensed milk used rather than anything to do with Switzerland.
I also realised we have something really similar in New Zealand called Russian Fudge (although I can't seem to find any reason why it's called that and all recipes seem to originate in New Zealand). It's essentially the same but with Golden Syrup added to it as well.
However, having now lived in Scotland for years, I have to say I'm most partial to Scottish Tablet! It's become a part of my life here.
Most weddings I've attended feature Tablet after the main meal or as a favour to take home with you, and we even had Tablet on the cake table at our wedding – yes we had a whole cake table don't judge us!
It's often present in hotels/B&B's as a treat on the tea tray, and there are lots of variations to be found, like Tablet Ice-cream and Tablet Cheesecake.
Basically, you can't visit Scotland without trying Tablet!
But I have to say the homemade stuff has always been better than the shop-bought kind because it doesn't need preservatives or any substitution for milk products.
I'm not saying all bought ones have these, of course, but many do so that they can have a longer shelf life. It makes sense, but if you can try a good batch from a traditional Tablet recipe, then that's the way to go!
Is Tablet hard to make?
I first tried making Tablet one Christmas when we were visiting some of Phil's relatives. His stepmother, Margaret, showed me her family recipe, and with plenty of supervision, I helped to make it.
It was amazing! I decided I wanted to try it on my own, so she sent me "Aunt Grace's Scottish Tablet Recipe", and here we are!
It was through practising on my own that I learnt it can be temperamental, and you need to know what to do if things aren't going quite to plan. Luckily I've had lots of time to learn now, and I can help you all not to make the mistakes that I have!
Full tips and tricks are listed after the recipe below.
There are endless variations for a Scottish Tablet recipe out there, but I firmly believe this one is the best, and I know it works!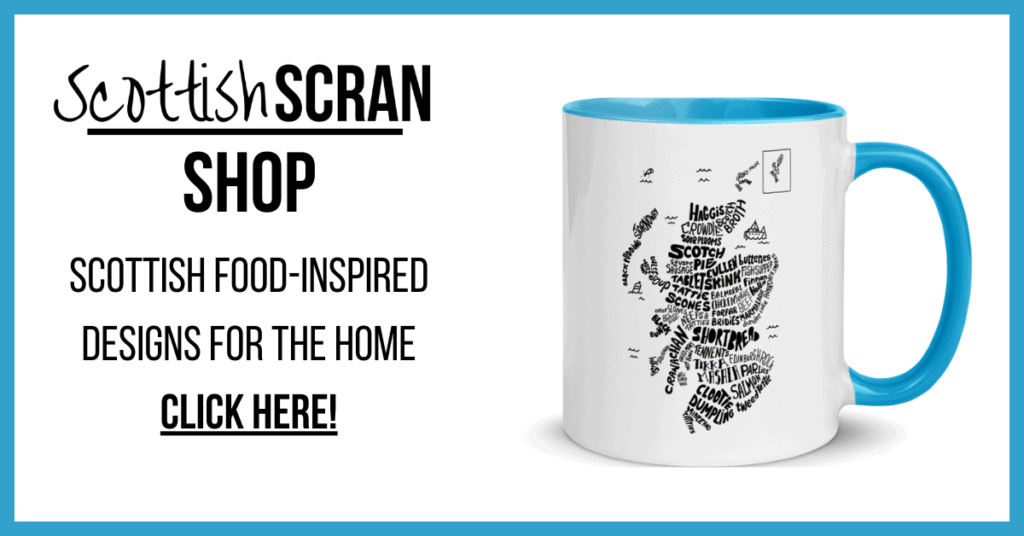 Scottish Tablet was originally made with sugar and cream, but it's now more commonly made with sweetened condensed milk and butter since it's so easy to burn the cream. This is what we do in our Tablet recipe.
It still needs lots of attention to make sure it doesn't catch on the bottom of the pan; you won't be multitasking while you make this one! Be prepared to devote your full time to the recipe as you'll need to constantly stir it to make it work.
The recipe also makes quite a lot, and Tablet always makes a great gift… if you can bear to part with it!
Other Scottish Classics
Read our post of 50 Scottish Foods to Try!
Things You'll Need to Make Scottish Tablet
Large Microwave Safe Bowl – optional as you can heat everything on the stovetop
Large Pan for the stovetop – and we mean LARGE as the Tablet needs to bubble up
Wooden Spoon
Scale for measuring or cups
12 x 9 inch tray – you can use whatever size tray you like, depending on how thick you want your Tablet to be, but this is the size we use most of the time
Ingredients for this Scottish Tablet Recipe
900g granulated white sugar (4.5 Cups or 2lb. Yes, that much sugar!)
250ml of full-fat milk (1 Cup)
1 tin of sweetened condensed milk (397g tin)
85g butter (6 Tbsp)
Moving from New Zealand to Scotland and having lived in the United States for a while means I'm never quite sure what measurement system belongs, so I've tried to put everything you might want in the recipe card below but let me know if you need help!
I tend to weigh ingredients on the scales when I bake, but you can also measure it out in cups if that's what you prefer.
There's no getting away from it; Tablet is definitely not diet-friendly! It requires a lot of sugar, but I firmly believe we all deserve a treat now and then, so why not Tablet?
You can substitute the granulated sugar for caster sugar (superfine sugar in the USA) if you like but we've always made it with granulated; just make sure it's fully dissolved.
How to Make this Scottish Tablet Recipe
Below is the full explanation of each step to making this Tablet recipe a success, but if you want the quick version, then it's in the printable recipe card below.
Start by melting the butter, sugar, and milk together.
Margaret always melts the butter, sugar, and milk together in the microwave, and I find that much easier to do that.
You can put it in the pot you intend to use on the stove, however, and just melt it together on low heat, ensuring it doesn't catch on the pan or burn.
Using the microwave in this step is generally quicker, and there's less room for error. It's not "traditional", but it takes some of the stirring work out and sets you up for success.
I have seen some other recipes use water instead of milk in the tablet recipe, but milk gives the Tablet a much creamier taste.
Once you have melted the first lot of ingredients together in the microwave add it to the pan with the condensed milk.
From here, you need to bring it all to a boil. This is a really important step because if you don't get the mixture hot enough, the Tablet won't set properly later on.
You need to have a big pot because as the tablet mixture rises with heat and comes to a boil it'll expand. I learnt this the hard way. As you can see, I only just managed to keep it in the pot!
The Tablet recipe then calls for a "brisk simmer" for about 20 minutes which means not fully boiling but not on a low heat either.
The mixture will reduce a little in the pan, and you should keep stirring the whole time. You certainly get a workout making Tablet!
Once you've been simmering and stirring the Scottish tablet for about 20 minutes it will start to darken, and then you need to take it off the heat and beat it until it thickens up (check our top tips and info below about knowing if it's ready!).
Traditionally this was done with a wooden spoon, and that's how I've always done it too, but I know some people do use an electric beater as well.
Whenever I've seen homemade Tablet it's been done in a greased tin, but you could also do it in a baking paper-lined or greased baking tray or lasagne-type dish. It depends on how thick you want the pieces to be when you cut them later.
The mixture below is still hardening up. As you pour, it should already start to thicken, so even if your tray is a bit bigger, it won't necessarily fully spread over the whole thing. It'll just make for some different-sized pieces around the edges!
After it's been sitting about 20 minutes or so you can scour the top with lines for where you'll cut later. This means you'll get neater lines, as it can shatter if you just try and cut it without the lines. You should leave it to set further for at least 2-3 hours or overnight if you can keep people away from it for that long!
And that's how you make traditional Scottish Tablet at home! It sounds complicated but it's really not too bad. You just need to keep an eye on it and keep on stirring! I hope my little step-by-step tips will help you along the way.
What if my Tablet doesn't set?
If your tablet doesn't set, it means it didn't reach the right temperature. It is possible to rescue it by putting it back into the pan and bringing to a boil again. That sometimes means it gets a little overcooked and won't taste quite as smooth, so keep a close eye on it to see when it's darkened and ready.
The finished texture is usually a tad grainy, but it then melts in your mouth.
The mixture will begin to darken when it's ready, but that's not exactly a clear instruction. As with fudge, there are some tests you can do to see if you've got it to the right temperature, although you will just get to know that it's right if you make it a few times (and why wouldn't you?).
The setting point of Tablet is 120 degrees Celcius if you want to use a thermometer. This means you use a candy thermometer to get it to that point and know it will set.
Alternatively, you can do the drop test in a glass of water. Take a bit of the mixture with the spoon or stirrer and drop it into a glass of cold water, and if it sticks together and forms a ball, it's ready. If it trails and makes a sort of line, then it's not ready, and you need to keep going.
Can you make Scottish Tablet in the microwave?
As noted above, I used the microwave in the first part of this recipe. This is a little controversial! Tablet purists might say that it should all be done in a pan on the stove.
The thing is, Tablet requires a lot of attention and careful heating so that the sugar doesn't stick to the bottom of the pan and burn. Using the microwave for the first step of melting the butter, milk, and sugar together helps to minimise the chances of the mixture sticking.
I like to transfer the melted butter, milk, and sugar mix to the pan to finish the recipe because I think it gives it a better taste.
It is possible to add the condensed milk and continue to heat it in the microwave for around 10 to 15 minutes, stirring every few minutes and then beating it before pouring it into a tin to set, but I'd encourage you to try it with the method outlined here instead for the best flavour!
Tablet Flavour Variations
While simmering and stirring your Tablet, you can also add some whisky if you want to make it even more Scottish. I'd suggest just a dash; too much is quite overpowering! Do this nearer the end when you're about to take it off the heat so that the flavour is retained.
Some recipes call for vanilla essence to enhance the flavour, but traditional Tablet recipes don't include it, and, in my opinion, it's not really necessary. The caramelisation flavour is already there, and it's sweet enough.
As well as these suggestions, you could experiment with other spirits such as Rum or Baileys. Add these in the same way as whisky above.
I have seen recipes that add a whole other flavour, such as chocolate or even a more floral infusion, such as lavender or rose. Chocolate would completely change the taste, but you could add some cocoa powder to the recipe if you want to give it a go. Other essences, like the floral ones, can be added near the end once removed from the heat and just before you beat it.
Personally, we prefer our Tablet without any additional flavours, but we'd love to hear if you give something else a go!
And that's Aunt Grace's Scottish Tablet recipe, don't tell her I've shared it!
Yield: Approx 26 Squares
Homemade Traditional Scottish Tablet
Scottish Tablet is a bit like fudge but with a harder, and with a slightly grainy texture that melts in your mouth. It's a must-try if you visit Scotland, but now you can make your own at home with Aunt Grace's Scottish tablet recipe too!
Ingredients
900g granulated white sugar (4.5 cups or 2lb. Yes, that much sugar!)
250ml of full-fat milk (1 cup)
1 tin of sweetened condensed milk (397g tin)
85g butter (6tbsp)
Instructions
Slowly dissolve the sugar, milk, and butter until it's smooth. This can be done in a pot on the stove but it's also easy to do in the microwave and lowers the risk of burning. Put in a microwave-safe bowl and blast for 90 seconds at a time on a low or defrost setting. It'll take approximately 6 times in the microwave for it to melt into a smooth mixture.
Pour the liquid into a large pot on the stove. If you're using an electric stovetop you can use a trivet to stop the mixture burning.
Add the condensed milk and bring it up to a boil (stir continuously to stop it catching on the bottom of the pan)
Briskly simmer for about 20 minutes until the mixture darkens to a caramel colour, stirring continuously
Take off the heat, quickly beat the mixture and pour it into a buttered swiss roll tin
Notes
Be sure to use full-fat ingredients or the recipe won't work correctly. Also, use a large pot because the mixture will increase in volume when it's coming to a boil. Continuously stir the mixture so it doesn't stick! You can use an electric beater for the last step, but it's not necessary.
See our post for all the top tips!
Nutrition Information:
Yield:
28 Squares
Serving Size:
1
Amount Per Serving:
Calories:

155
Total Fat:

3g
Saturated Fat:

2g
Trans Fat:

0g
Unsaturated Fat:

1g
Cholesterol:

8mg
Sodium:

26mg
Carbohydrates:

33g
Fiber:

0g
Sugar:

33g
Protein:

0g
The nutritional data in this recipe is provided by a third party and these values are automatically calculated and offered for guidance only. Their accuracy is not guaranteed.
Top Tips for Making Scottish Tablet
Tablet is well known to be temperamental, and it's no surprise we've had many questions since we released this recipe! Based on these, we've compiled these top tips. There is some further explanation above throughout the recipe method, but these will get you started.
Use a large pot to enable the mixture to have room to expand
Make sure the sugar is fully dissolved at the first stage when you're melting the butter, sugar, and milk together. You should use a spoon to scoop some of the mixture up and allow it to run back into the bowl, checking you can't see any sugar crystals/grains and that it's fully dissolved. This helps it to set properly later and avoid it being too grainy.
Allow the mixture to really bubble up and reach boiling point for a few minutes before turning it down to simmer. If it doesn't get hot enough, it won't set.
There is no exact length of time to simmer and stir as it depends on your stovetop, but this part of the recipe is crucial to the Tablet setting. Ours takes approximately 20 minutes. The mixture should start to darken, but to double-check it's ready, you can use a candy thermometer to see that it's reached 120C/248F. Another option is the "drop test". This is where you drop a small amount of mixture into a glass of cold water, and if it forms a little ball, then it's ready!
After taking off the heat, make sure you beat the mixture until it starts to thicken before pouring it out. It takes some arm work! You can use an electric hand mixer for this stage but be careful not to overdo it.
If your Tablet seizes, then it's overcooked and/or overbeaten. Once the Tablet has darkened in the pan as your stir, it's ready, don't keep cooking it. This is where the soft ball test or thermometer come in handy. And once it loses its shine and thickens when you're beating it, then it's done. Don't keep going, or it will turn rock-hard.
If your Tablet still doesn't set, it is possible to pour it back in a pan, reheat, and start the process again. It can turn out a bit more sugary/grainy, but at least you'll still get Tablet! When you put it back in the pan leave it to melt together and heat again without stirring, then once it's all melted, stir it gently to avoid making it too grainy, and only beat minimally once it's off the heat.
If all else fails, add your unset Tablet to ice cream!
Loved this recipe?
Join us in our Scottish Scran Facebook Group for more recipes, stories and chat
Learn more
Definitely let us know how you get on with your Tablet making.
And we love seeing your successful Tablet photos in our Facebook Group… or your mistakes too!
Sonja and Phil x