Burns Night is a celebration of the life and work of Scotland's National Poet, Robert Burns, also known as Rabbie Burns, and it's held every year on the 25 January. It usually involves a ceremonial meal with toasts to the Bard and performances of his poetry.
You'll often find Burns Night menus offered at eateries across Scotland, with or without the added performance, but often friends and family gather and have their own Burns Night too.
We've included plenty of menus and recipe ideas below so you can make your own delicious meal. But let's start by introducing the man himself, for those of you who don't know him so well, and then go into how to plan a Burns Supper in his honour!
Who was Robert Burns?
We all sing 'Auld Lang Syne' at New Year's celebrations, and Burn's Night is celebrated all over the world but did you know that this national poet of Scotland was from a poor farming family and that he had little formal schooling?
Early life
Born in Ayrshire in January 1759, Robert Burns, also known as Rabbie Burns, was a Scottish poet and songwriter who wrote both in Scots Dialect and English. He was the eldest of seven children, and his parents were poor tenant farmers. While his father made many efforts to improve the family's situation, but all failed, and he died bankrupt when Robert was 25.
Having watched his father being beaten down by life, Robert rebelled against the social order of the day and struck out in his songs and poems about anything that perpetuated inhumanity to others.
Becoming a writer
Brought up with the Scottish tradition of orally transmitted folk songs and stories, Robert revised and adapted these into his own work, and many of his songs were written to fit existing tunes.
He took up an offer to work in Jamaica as an assistant overseer of slaves. He could not afford the passage and so sent his book 'Scotch Poems' to Kilmarnock printer John Wilson and they were published in April 1786. Later that year his book 'Poems Chiefly in the Scottish Dialect'.
This was instantly successful and Robert was able to postpone his trip to Jamaica and instead travel to Edinburgh where a further edition of the poems was published. There he mixed with the higher society and continued his work.
Early in 1787, he met music seller James Johnson and he contributed a large number of songs to 'The Scots Musical Museum' over several volumes which were published between 1787 and 1803.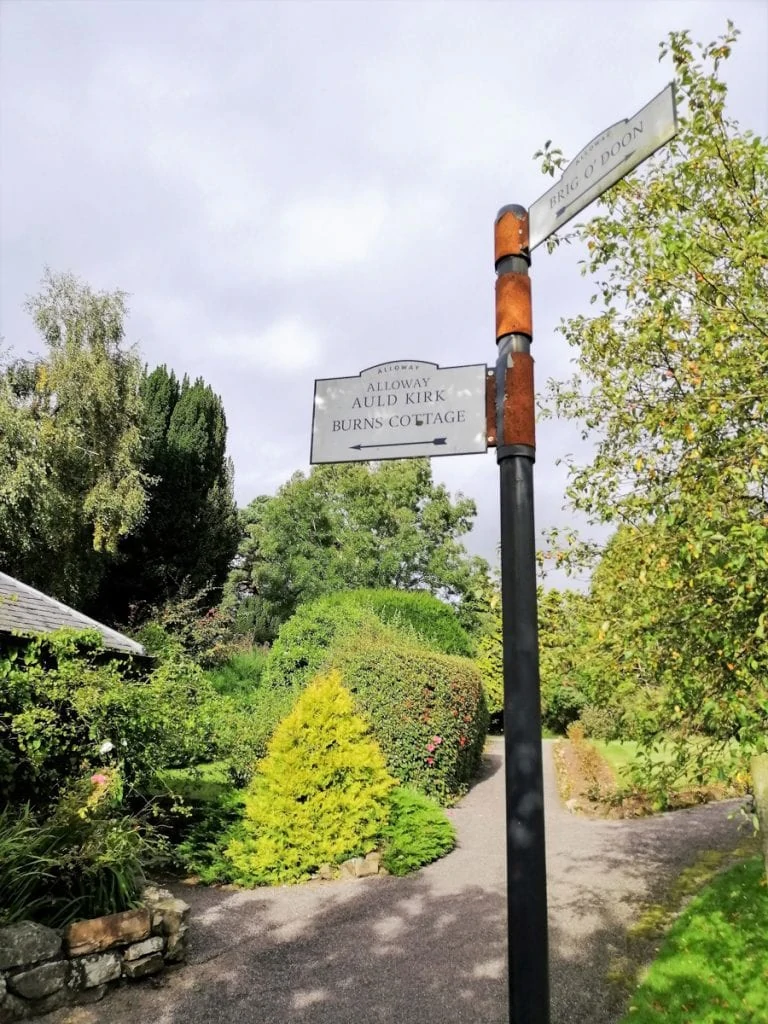 Later life
Burns had a number of affairs and entanglements, starting with a servant of his Mothers and continuing with other women throughout his time in Edinburgh.
After this, he returned to Mossgile, where he took up his relationship with Jean Armour, who he had previously wished to marry, and they moved to a farm in Dumfriesshire where he wrote what many consider to be his masterpiece, the poem 'Tam O'Shanter'.
Jean bore him nine children, sadly, only three of whom survived infancy. After giving up the farm they moved to Dumfries, where he put his energies into writing lyrics for songs, including the famous 'A Man's A Man for A' That'.
Although his situation was better than ever, he had lost many friends over his views on democracy and his sympathy for the French and American Revolutionists. As well as writing songs and poems, he was working as an exciseman and the combination of long hours of work and harsh conditions led to his early death in 1796 at the age of 37.
Legacy
The cult of Robert Burns has only continued to grow since his death. He influenced poets and writers, monuments have been erected to him and organisations formed to promote and appreciate his work.
He had a varied and eventful life, but despite his prolific poems and songs, his philandering and restlessness, the most fascinating fact we have found about Robert Burns is that he never claimed to have written 'Auld Lang Syne'!
In 1788 he sent the poem 'Auld Lang Syne' to the Scots Musical Museum, saying that it was an ancient song that he had been the first to record on paper rather than that he actually wrote it himself.
When was the first Burns Supper?
The first ever Burns Supper was held at Burns Cottage in Alloway on July 1801 to commemorate five years since the death of the Bard and was attended by nine of his close friends.
They shared a meal of Haggis, read his work aloud and made a speech in his honour. The event was so successful, and they enjoyed it so much it was repeated on his birthday, and thus the tradition of Burns Night was born!
How to celebrate Burns Night
Burns Night can be celebrated in a few different ways. If you have a Burns Supper event near you, it can be great fun to attend and participate in a meal and often a Ceilidh (traditional dancing).
You could also treat it like a dinner party, inviting a few friends over for your own Burns Supper with all the ceremonial aspects too.
If you're not attending a full Burns Supper, then you can still make a delicious Scottish-themed meal and raise a toast to the Bard at least!
What happens at a Burns Supper?
While each Burns Supper will differ, some common ceremonial and traditional aspects are expected. At the very least, a meal of Haggis is included, as well as reciting some of Burns work.
The full ceremonial night goes a bit like this:
Before the meal:
The 'Selkirk Grace' is recited, and a few welcoming words are said.
"Some hae meat and canna eat,
And some wad eat that want it,
But we hae meat and we can eat,
And sae the Lord be thankit."
The meal begins:
Starters are served, and then the main meal of Haggis is piped in (yes, it is brought to the table to the sound of bagpipes), and the 'Address to a Haggis' is performed. And when we say performed, we mean it is a theatrical event!
The host should stab the Haggis as verse three arrives (note, make sure there's a little hole beforehand to let the steam out!) and hold the haggis aloft at the end while reciting the line "Gie her a haggis!" to hopefully, rapturous applause.
"His knife see rustic Labour dight,
An' cut you up wi' ready sleight,
Trenching your gushing entrails bright, Like ony ditch;
And then, O what a glorious sight,
Warm-reekin', rich!"
After the meal:
This is when the works of Burns may be recited, and the Immortal Memory, a speech written to honour Burns, is delivered. Each Burns Supper is different and may focus on a different theme.
After this, there's an Address to the Lassies, which traditionally thanked them for their hard work in the kitchen but has since evolved to reflect on the changing role of women, although it might contain some tongue-in-cheek comments.
It's followed by the Toast to the Laddies, where a spokesperson for the women present can give her own opinion on the place of men in society and have the last word on it!
Some popular Burns works to recite include 'Tam O'Shanter', 'A Red, Red Rose', 'My Heart's in the Highlands', and finally, 'Auld Lang Syne' to close the night.
This might all be followed by a Ceilidh if you're at a larger event.
Burns Night Menu Ideas
There's definitely an element of tradition to the food served at a Burns Supper. Haggis is the centrepiece, of course, often preceded by a soup and followed by a sweet dessert or cheeseboard.
However, it can be fun to mix things up by taking classic dishes and giving them a modern twist, so we've outlined a more traditional Burns menu, followed by some alternative Burns Supper ideas, especially useful if you're having a small meal for two.
Traditional Burns Supper Menu
Starter
Cock-a-Leekie, Scotch Broth or Cullen Skink Soup served with Bannocks.
Main Course
Haggis with Neeps and Tatties, and a Whisky Sauce.
Dessert
Clootie Dumpling, Tipsy Laird, Cranachan, or a Scottish Cheeseboard with Homemade Oatcakes.
Alternative Burns Supper Recipes
Starters
Add in some extra Haggis with Haggis Bon Bons, or check out our 32 Recipes for Haggis!
Swap out the Cock-a-Leekie or Cullen Skink soup for Scottish Lentil Soup or Tattie Soup.
Try a Scottish Salmon dish instead, like Smoked Salmon or Potted Salmon with Homemade Oatcakes.
Main
It's pretty hard to depart from the traditional Haggis for the main, given that it's the centrepiece of the ceremony surrounding Burns Night too.
However, depending on your guests, you could try a vegetarian or vegan haggis or serve it as a Haggis, Neeps, and Tatties stack after the cutting. Check out our post about Neeps if you're not sure exactly what they are, and for a handy trick for cooking one!
If you're having a smaller meal with family and friends and want to acknowledge the Bard, then you could even serve Chicken Balmoral, a chicken stuffed with Haggis wrapped in bacon and topped with whisky sauce.
Dessert
Scotland seems to have no end to delicious desserts, so you can really have what you like for this part of the meal.
The most popular are Clootie Dumpling and Cranachan, but Tipsy Laird and a Scottish Cheeseboard feature highly too.
Try a Cranachan Cheesecake for a more modern take on the traditional dessert, or switch it for Caledonian Cream made with marmalade and orange instead.
Traditional Tablet may feature at the end of the meal with coffee and tea, but we also have a Tablet Cheesecake recipe or Tablet Ice Cream for those with a sweet tooth.
Mini Ecclefechan Tarts are a nice touch to end the meal too!
You could even go completely different with a slice of Dundee Cake.
What to drink at a Burns Supper
Wine and beer are popular tipples throughout a Burns Supper, but whisky also makes an appearance. It's popular to douse the Haggis with a bit of whisky before serving, but you can also toast the haggis with it and have a dram yourself at the end of the meal.
It may not be quite so traditional, but if you could also give some of our whisky cocktail recipes a go, or even a Chambord Bramble with Scottish Gin.
Burns Night is a fun and interesting night that breaks up the dreary winter January days in Scotland and is a good excuse for a party and some fun.
However you choose to celebrate Burns Night, be sure to raise a toast to Scotland's poet and have a bit of Haggis!
Planning a Burns Night Party
Have you ever been to a Burns Supper or celebrated Burns Night?
Sonja and Phil x