Microwave sticky toffee pudding… is it really possible to make a delicious sticky toffee pudding in a mug?!
I contemplated the idea as we watched TV one night, wondering whether I could make one of my favourite desserts in 5 minutes instead of a minimum of 45.
The thought wouldn't go away so I decided to have a go, dates are actually the main ingredient in sticky toffee pudding so I started by making sure to include them on the next shopping list, and then the experimenting began!
And now I'm actually SO excited to say that YES, you can make a 5-minute sticky toffee pudding in the microwave.
No more waiting and watching with anticipation as it bakes in the oven, but instead, having one of the best Scottish desserts ready in not much longer than a TV commercial break!
Pin for later!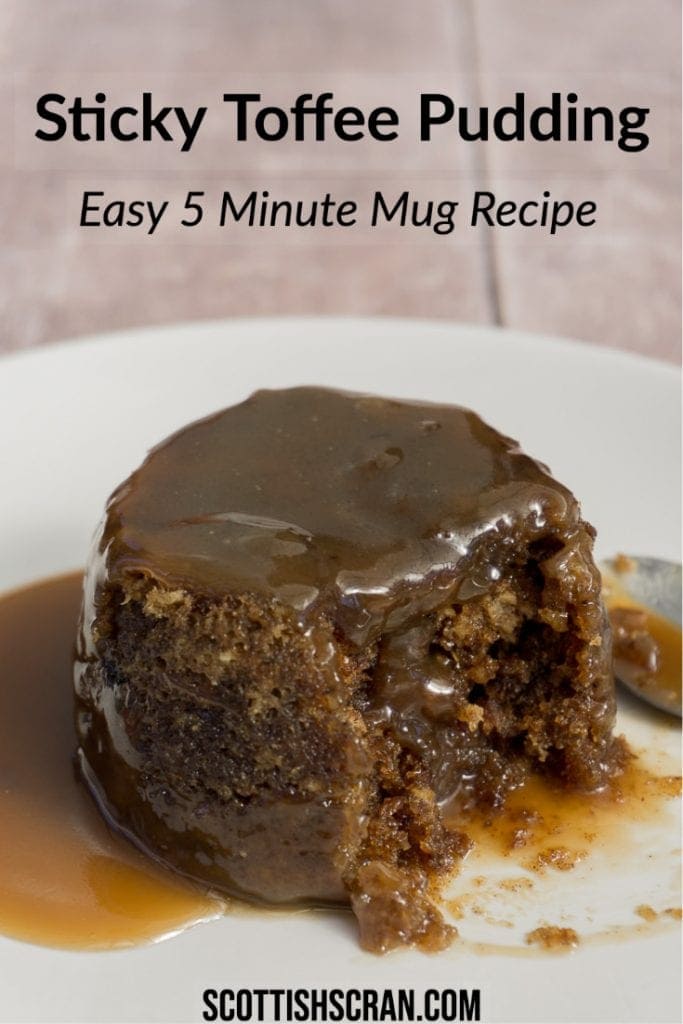 What is sticky toffee pudding?
But before I get too carried away, I should probably explain a little bit about it and why I'm so excited to be sharing this quick and easy sticky toffee pudding recipe.
Growing up in New Zealand we called it sticky date pudding, and I remember being a little put off by the idea of dates. But once you've tried this delicious sponge cake you'll realise it's the dates that give it the sweet, caramel flavouring as they dissolve into the mixture.
The pudding is made complete by a silky caramel toffee sauce and is often served with a side of ice-cream or cream to cut through the sweetness. It's one of my favourite comfort foods!
We're such big fans of this classic dish that we've also created a Sticky Toffee Trifle and a Sticky Toffee Pudding Traybake! There's no shortage of sticky toffee comfort food in our house.
Comfort foods, in fact, are one of my biggest reasons for paying a visit to the kitchen, so much so that I wrote a piece about each of my favourite comfort foods from around the world.
Where does sticky toffee pudding come from?
The origins of sticky toffee pudding are up for debate, like many British foods (including scones!).
Some say it originated at the Sharrow Bay Hotel in the Lake District in the 1960s, from a recipe the owner got from a Mrs Martin in Lancashire, who in turn got it from a Canadian friend.
Although the sponge was said to resemble an English muffin rather than the pudding we know and love today.
The recipe is said to be kept under lock and key and all staff and guests who participate in cookery demonstrations have to sign a waiver not to reveal it.
Then there's the claim from the Udny Arms Hotel inNewburgh, Aberdeenshire, who had it on the menu in 1967 too.
Obviously, for the purposes of this website, I'm claiming it as Scottish and following a similar recipe to the one that the hotel readily gives out to guests who can't bear to leave without it!
Sticky toffee pudding in a mug
Right, back to the job at hand! Mug cakes have become popular over the years, as a quick way to make a tasty dessert and for portion control too.
I always thought a sticky toffee pudding in the microwave would be far too difficult. After all, you normally soak the dates for a little while to help soften them, and you need to make a sauce as well as a sponge.
But after some tasty trial and error, I'm proud to say I've cracked it!
Things you'll need to make sticky toffee pudding mug cake
Large mug (or two!) for the sponge: We like to use two of our extra-large mugs. The mug will only end up being half full of sponge, but it does need room to rise while it's in the microwave. This also limits spillage and time spent cleaning the microwave.
Another mug or a microwave-proof jug for the sauce: we just use a plastic jug, but if you don't have one, you can make the sauce in another mug.
Measuring spoons for the ingredients: Because you're making the sponge in small amounts, you need to be quite precise with your measurements, or the texture of the pudding will be wrong. It helps to use proper measuring spoons.
I will be the first to admit it isn't the prettiest of puddings when it's still in the mug, but you can definitely just pour the sauce straight over it once it's cooled and eat it directly from the mug.
If you're making these for an occasion or you just want to feel a little fancier, then by all means, turn the dessert out into a bowl or onto a plate and pour the sauce over it.
Ingredients for microwave sticky toffee pudding
Sponge
50g chopped dates
2 tbsp hot water
1/8 tsp baking soda (just a really tiny amount)
25g butter
1 1/2 tbsp light brown sugar
2 tbsp beaten medium-sized egg (roughly half the egg)
1 1/2 tbsp self-raising flour
You can see the ingredients are quite precise, and the below step-by-step method will show you how to put them in the correct order and when you need to microwave it.
This sticky toffee pudding in a mug is made for just one person or serving, however, you can easily make two at once, just measure into each mug and then do them one at a time in the microwave.
The baking soda is a really tiny amount. You just want a little bit to help soften the dates up.
The reason for using just two tablespoons of beaten egg is that if you use the whole egg then the sponge has too much of an "eggy" taste, rather than being light and caramel flavoured.
If you're making for two then you can just split the egg between the two mugs, but if you're just doing for one then beaten egg will keep in the fridge covered for up to 2 days.
So you can use it up in another recipe, or make another one the following day if you're feeling indulgent!
Sauce
30ml double cream
10g unsalted butter
2tbsp light brown sugar
No one said sticky toffee pudding was healthy! But that's all the more reason why this microwave mug version makes a great little treat.
You won't be able to over-indulge like you might with a whole pudding, or is that just a problem in our house?
These ingredients make the perfect amount of rich toffee sauce for me, but you can do less or more depending on your preference.
How to make sticky toffee pudding in a mug: Step-by-step Method
I'll run through most of the method step-by-step to help you make this easy microwave sticky date pudding, but you can find the recipe card with the full ingredients and instructions all together down below.
As I mentioned, we use quite large mugs to give the pudding room to rise in the microwave, and we like a flatter sort of pudding, but most general coffee mugs should work.
Start by greasing the inside of the mug with butter. Some of this will melt into the mixture when you cook it but it does still help with getting the pudding out at the end if that's what you want to do.
Next, chop the dates. It's possible to buy pre-chopped dates in the baking section of some supermarkets, however, I would still chop them even smaller!
Normally in a sticky toffee pudding recipe, you would soak the dates for a while to help them soften and dissolve within the pudding as it cooks, but you don't have that luxury with this quick sticky toffee pudding recipe. So best make them as small as possible!
Add boiling water to the dates and the tiny amount of baking soda. This is half the smallest measuring spoon I have! But you'll notice it bubbles a little and helps the dates to break down. At this point give it a zap in the microwave for 20 seconds to help too.
Next, you'll add the butter and microwave for another 30 seconds to help it melt. You may not need that long if your butter is already room temperature, it just needs to be melted enough to stir in. Then stir in the sugar and leave to cool a little.
If you're making two sticky toffee pudding mug cakes then you can repeat the steps above for the second one now while the first one cools.
The flour and the egg are added next. You'll want to add self-raising flour, or if you only have plain flour then mix up 100 grams or a cup of flour to one teaspoon of baking powder. You can then use the required 1 and 1/2 tablespoons and keep the rest for another recipe.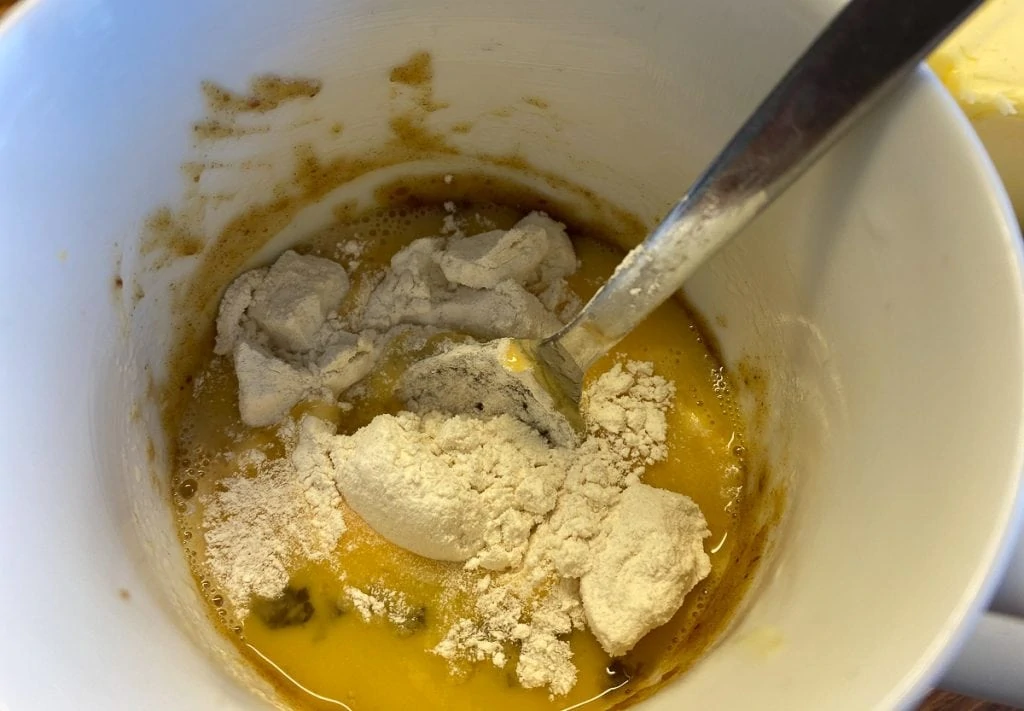 Make sure when you're stirring it all together that you mix the dates at the bottom of the mug in. Continue to stir making sure there are no lumps but don't over-mix it.
Now it comes to the cooking part, you'll want to keep an eye on it in the microwave throughout the process to avoid a sticky mess. We cook it in short blasts so that the pudding doesn't over-heat.
The microwave times are based on our 800W microwave at full power. First time in the microwave is the longest, at 1 minute 15 seconds, the second is 30 secs and the last is just 20 secs.
After each time in the microwave, you can take it out and jiggle the mug side to side to help it not stick too much.
When it's done, like any good pudding, a knife will come out clean and the sponge will spring back to the touch.
I warned you that sticky date pudding in a mug isn't the most attractive of desserts! But don't worry because it tastes amazing, and you'll be covering it in sticky toffee sauce anyway.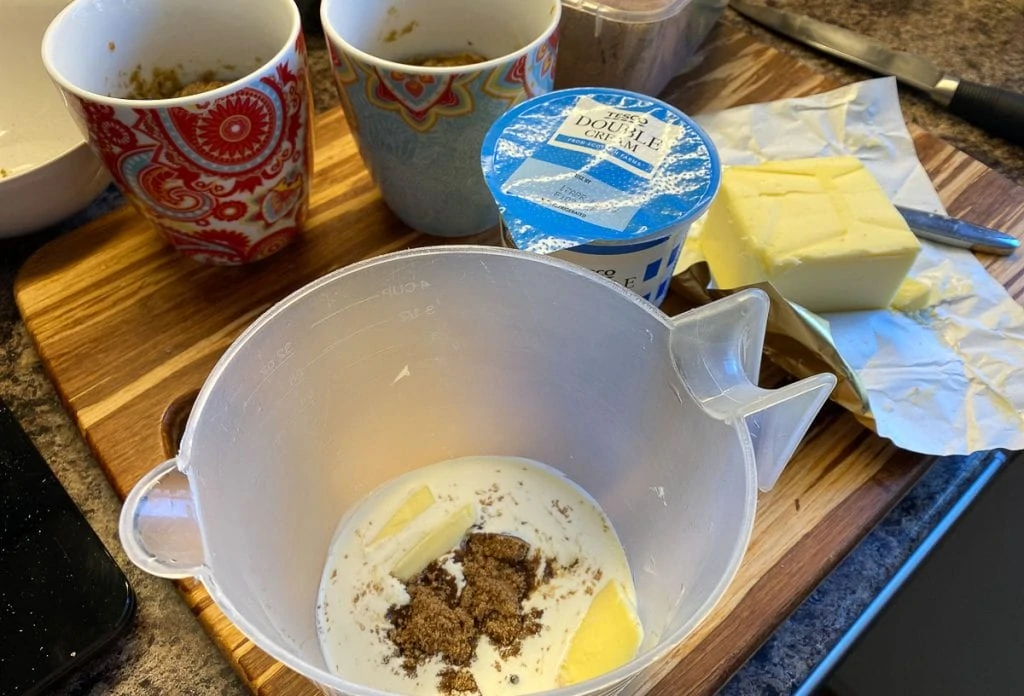 We usually do two mugs, and then double the sauce ingredients to make enough for both of us. I like to run a knife around the edges of the sponge and tip it out onto a plate to serve. Sometimes it might stick a little but then you can eat that bit with a spoon!
And there you have it, an absolutely delicious sticky toffee pudding made within 5 minutes in the microwave. I honestly don't know if I'll ever go back to making it the traditional way!
Did you love this Old School pudding?
If this recipe pushes your memory into overdrive and gets your nostalgic tummy rumbling, then we have a whole bunch of recipes that you're going to love!
Have a look at our Best School Puddings post for some absolute British school dinner classics. All you need now is pink custard!
Love the classics more than the school dinner puds? No problem, just visit our Classic British Puddings post for some of the most delicious traditional puddings we've ever made!
Let us know in the comments if you've tried any of these pudding recipes before.
Yield: 1
Microwave Sticky Toffee Pudding in a Mug
This microwave sticky toffee pudding in a mug is a little piece of heaven! This easy recipe only means you can have sticky toffee pudding in just 5 minutes, to be eaten straight from the mug or tipped out onto a plate.
Ingredients
Sponge
50g finely chopped dates
2 tbsp hot water
1/8 tsp baking soda
25g butter
1 1/2 tbsp light brown sugar
2 tbsp beaten medium-sized egg
1 1/2 tbsp self-raising flour
Sauce
30ml double cream
10g unsalted butter
2 tbsp light brown sugar
Instructions
Grease inside of a large mug with butter
Chop dates finely
Add to mug with boiling water and bicarbonate of soda
Microwave for 20 seconds and stir
Add butter and microwave a further 30 seconds and stir
Add sugar and allow to cool slightly
Fold flour and egg gently into the mixture, taking care to thoroughly mix but without overdoing it
Microwave for 1 minute 15 seconds. Jiggle mug side to side to help mixture unstick from the sides.
Microwave for 30 more seconds and jiggle again
Microwave for 15 more seconds
Put all of the sauce ingredients in another mug or microwave-safe jug
Microwave for 30 seconds and stir together
Microwave for a further 30 seconds until the mixture if bubbling
Pour sauce into the mug and enjoy, or run a knife around the sponge and tip onto a plate, and add sauce on top.
Notes
When stirring make sure you're getting all of the date mixture from the bottom of the mug. These times are for an 800W microwave at full power. You may need to adjust slightly for your own microwave.
Nutrition Information:
Yield:
1
Serving Size:
1
Amount Per Serving:
Calories:

727
Total Fat:

43g
Saturated Fat:

26g
Trans Fat:

1g
Unsaturated Fat:

14g
Cholesterol:

222mg
Sodium:

517mg
Carbohydrates:

85g
Fiber:

4g
Sugar:

70g
Protein:

7g
The nutritional data in this recipe is provided by a third party and these values are automatically calculated and offered for guidance only. Their accuracy is not guaranteed.