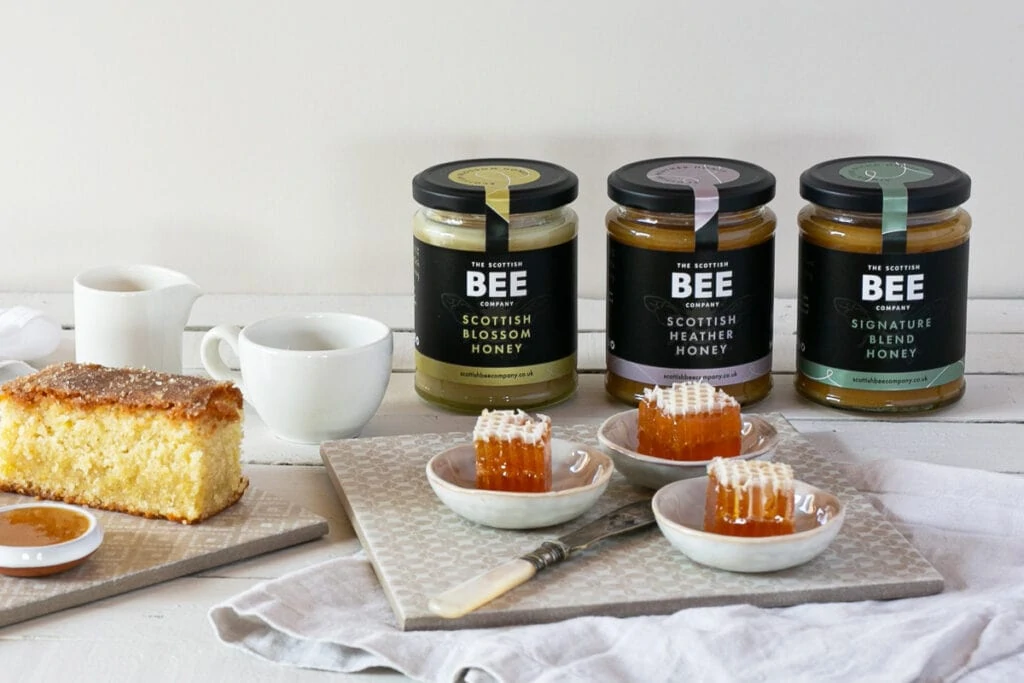 One of the reasons we started Scottish Scran was to discover and highlight the depths of Scotland's larder.
We knew the basics, but as we develop more and more recipes, we came across some amazing foodies and suppliers of food and drink that perhaps deserve some extra recognition. Or we just love their products so much we wanted to say hello to them!
Below is our chat with The Scottish Bee Company, an environmentally conscious, family-run company that began by producing uniquely flavourful honey. They now have a whole range of different products and aim to increase the bee population in Scotland by 20% over the next three years.
All that and they've kindly given us a nice surprise, read on to find out what it is!
Tell us who you are, what you do and describe The Scottish Bee Company
I'm Suzie Millar and alongside my husband Iain, we founded and run The Scottish Bee Company.
Based in Edinburgh, we produce luxury honey, beeswax candles and gifts from the wilds of Scotland. Our heather honey is the first food ever to gain the BSI Kitemark (for quality and safety), has won multiple awards (including a great taste award and winner of the highest award at the London Honey Awards).
How would you define Scottish cuisine in three words and why?
Underestimated – Everyone just assumes we're deep fried mars bars and Irn Bru!
Wild – The flavours from Scotland reflect the countryside; rugged, earthy and wild.
Seasonal – Scotland is an example of a country where the seasons change drastically. What is produced in winter differs hugely to spring, bringing out different flavours within the wild.
What was your favourite Scottish dish growing up, who made it and why was it your favourite?
Anything my granny made.
She was an incredible cook, her food really brought the family together, I used to love her Scotch Broth – so chunky and nutritious. She made delicious scones (are scones Scottish?) which I attempt as often as I can.
As well as these, I am obsessed and always have been obsessed with Haggis beef and tatties!
Tell us the story of The Scottish Bee Company's beginning, how did it come to be?
The concept came about in 2016 with the official launch in 2017. We originally ran it from our flat storing all our honey on our shelves. We've grown in so many ways – we now have a warehouse and team of 5/6 working for us.
We've added more products so we are no longer just honey. We do candles, shrub drinks, vinegar, and have many more in the pipeline!
My passion came and still does come from the constant awareness of the environment. We were always keen to create a profit and purpose business, and whatever we looked at, we kept coming back to bees and how essential they were to the ecosystem.
The rest seemed to flow.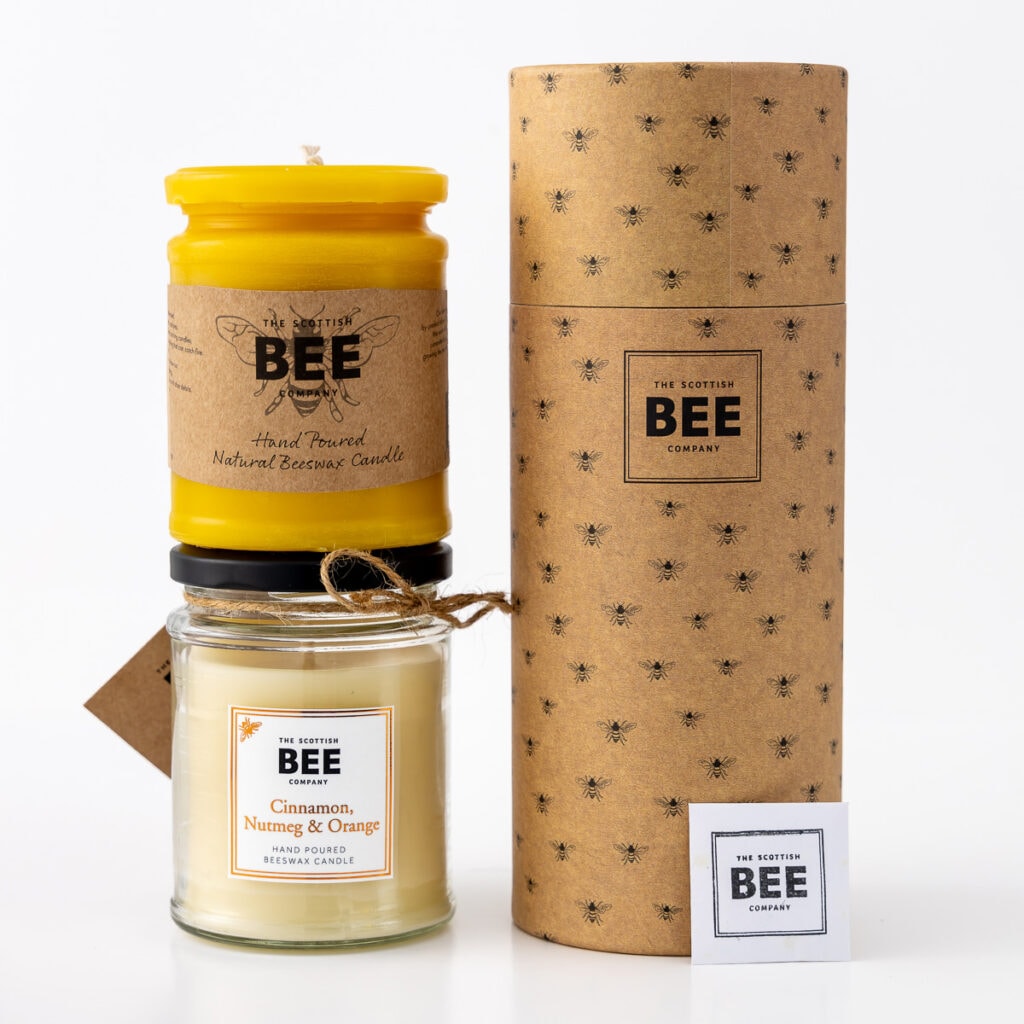 What makes Scotland the perfect place for what you do?
I've spent most of my life in Scotland, yet lived in multiple other places for around ten years, before finding myself back in Edinburgh. I can't explain it, whether it's the people or the wilderness, but something in your heart calls you back.
Heather is also abundant in Scotland and we make Scottish heather honey – there is nowhere better to be for what we do!
What's the hardest part of doing what you do?
Always the multitasking!
My biggest struggle is balancing looking after children, work and finding some time for myself. The work itself is a breeze – I truly enjoy it, I just wish there were more hours in the day to accomplish all the things I want!
What's the best part of what you do?
Being able to work with friends and family.
We are so lucky at The Scottish Bee Company to work with people who are closest to us. Currently, my sister and my cousin both work for us, and one of my good friends co-runs the business with us.
We all have such a shared goal which makes work really enjoyable. I also love bringing new products to life and seeing how people enjoy them. I get a sense of fulfilment knowing we are doing our bit for the world and people in it at the same time
What do people assume about looking after bees and running an award-winning business? Is it correct?
They assume we are bee farmers, which we aren't.
We take the honey, package it and supply it to our customers. And that's why it works really well – it gives the bee farmers the opportunity to focus on what they do and love best, and the same for us – we help each other out.
What do people get wrong about using honey at home, any top tips?
The biggest myth is that crystallised honey has gone off. Good quality honey will always crystalise – it is part of the natural process. Many people prefer it this way, however, for those wanting runny honey, simply warm it in a pan of water slowly and the honey will become smooth again.
What's next for The Scottish Bee Company?
Next up, we are focusing on our other ranges, including shrub drinks and vinegars and others that we can't quite announce yet…
We are also focusing on Repollinate, our charity. Due to covid, we have not been able to do much this past year, and so instead are donating our funds to food banks across Scotland.
Next year will be a big year for Repollinate when we are able to reconnect with our customers and develop the wild for our pollinator friends.
If people want to support the declining bee population, you can plant wildflower seeds and let your grass grow which provides food for bees to survive and grow.
Other than yourself, who or what are your favourite Scottish products/producers?
Bon Accord soft drinks – I love what they are doing with their soft drinks – not having refined sugar in them.
Litty's Larder does great cakes as well, and of course the Oban Chocolate Company who make bespoke chocolates… Hmm, I'm sensing a bit of a theme here!
Scottish Scran note – We have emailed all of these excellent foodies to see if they'd like to appear in our 11 Questions series!
Next Time…
We need to say a massive thank you to Suzie taking the time to talk to us.
What was the lovely surprise we hear you cry? Suzie has offered Scottish Scran readers a 10% discount on their products!
We're already making use of it, their candles are amazing! Simply enter Scottishscran10 at the checkout at The Scottish Bee Company and your discount will be applied.
You can also follow the journey of the Scottish Bee Company on social media. Say hello to them on Instagram, Facebook and Twitter.
Next time we speak to the wonderful Shetland Reel, the Shetland's very own gin connoisseurs. One not to be missed for any craft gin fans.
Which Scottish foodie, server or producer would you like us to talk to? Let us know and we'll drop them a line!